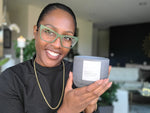 For Morgan Russell, life has always been more interesting with a big adventure. The Chicago-based native wanted to bring excitement to the mundanities of life, so she took a deep dive into the art of glass-cutting and candle-making.
Formally a non-profit professional, helping education entrepreneurs scale their businesses, today Morgan operates mo·lit, a luxury candle brand that creates a meaningful experience at the intersection of home accessories and wellness. Her candles feature premium fragrance oils blended with soy wax and grounded in handmade concrete vessels. Each scent is paired with a thought-provoking question that is meant to encourage mindfulness.
So, Morgan, tell us more about this big adventure that is mo·lit Candles. 
mo·lit started out as a hobby to add an interesting layer to my life. I wanted to switch up my day-to-day, so I decided to learn something new. After relentlessly searching online, watching countless YouTube videos, and getting insight from my crafting club, I discovered a tutorial on how to cut glass and make soy candles.
Many people don't know this, but mo·lit started out as candles housed in repurposed wine and spirit bottles. I would get used bottles from restaurants, friends and family and then cut them into candle vessels. It was a hit! I loved seeing people's reaction when they realized the candle burning on the coffee table was actually a wine bottle. Unfortunately, once the business started to take off, we ran into copyright issues. Even though we were turning trash into treasure, having the previous brand's label on the vessel was an infringement. So, we had to pivot.
And that led you to mo·lit as it is today? 
Yes. I'm extremely grateful for our journey. It's led to something much more than I could've ever imagined. Today, we're not just candles in cool vessels…we are more than that. We offer presence and perspective.
What do you mean by that…presence and perspective?
The act of lighting a mo·lit candle is an immersive, full-sensory experience that requires your full attention. Our fragrant oils provide aromatherapy which promotes well-being and our labels spark conversation and inspire reflection. There are no right answers to the questions on our labels. Their purpose is simply to encourage you to challenge yourself and seek a new perspective.
It's interesting because from day one, mo·lit candles were "conversation pieces" and in pivoting, we knew we couldn't lose that element. At first, our candles were centered around what was possible for the second life of a wine or spirit bottle and then transformed into something much more meaningful.
Now that you've found your lane, what are your hopes for mo·lit and the impact it will have on your customers? 
My hope is that we truly offer a unique and positive experience with every purchase. I think we often miss the ritual that comes with lighting and caring for a candle. This is an accent, almost like a plant, that can immediately elevate your home's aesthetic and atmosphere.
I also envision mo·lit providing light to people long after the candle has burned out. We plan to ramp up our sustainability initiatives in a couple of different ways. First, we'll soon be offering wax pouches so you can reuse your candle vessel and just refill it with wax. Next, we'll be launching a series of content to show customers other creative ways of up-cycling their vessels, such as, planter pots, cotton ball storage, and even a molcajete for guacamole making!
Ultimately, we want mo·lit candles to be the most coveted candle across the home accessory and wellness industries. There currently isn't anything overly personal or special about a typical candle…you can get them anywhere for any price. But a mo·lit candle is created with such deep intention that we hope it will be purposeful long after its first use.